The Accidental Celebrant

"Say the Word"

By Michael K. Jones

Early in my ministry life I invited a friend and colleague to attend a funeral I was leading. I was curious how I was doing and valued his experienced and educated opinion. When the funeral was over we met for coffee to discuss how I had done. Before even speaking he held his arms out as if he was about to tell a fishing story. Waving one hand he said "You held your listeners here." Waving the second hand he added "And then you tried to protect them by pushing death over here." I was shocked. I went back and re-read my notes only to discover that I didn't use the word death once. I was contributing to a society that avoided death.

Not only do we intentionally avoid death by actively pushing it aside we also work hard to ignore it. We try to push it out of our minds. We do so by filling our lives with noise, work and distractions. We carry on with our lives as if death is something we will never need to think about or experience. While this is a very human approach to life it is also somewhat dangerous.

A couple of weeks ago a friend of mine had a fatal heart attack while editing some music on his computer. We could tell by where we found him that his death was instantaneous. His immediate family live thousands of miles away and asked us to look for critical documents like a will. We couldn't find anything. His files were a mess. We did find a estate planning workbook but when we opened it there was nothing written inside. We had no idea what his wishes were. We had no idea how extensive his financial affairs were. We just kept digging and hoping for the best.

Death is something we cannot avoid and ignore. It's real and, to borrow a phrase from yet another friend "It often comes without warning". Funerals help make death real. They give a chance to name the loss we're experiencing and point to the hole this loss leaves in our lives and community. While using the word "death" may seem harsh and shocking there is a good reason for doing so.

The deceased is gone and is not coming back. There will be a time when our turn will come. Will we be ready? Will we leave our loved ones a mess or a map for their road ahead? Which reminds me, I have to update my will.

---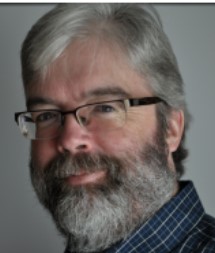 About the Author: A native of Fredericton, New Brunswick, Michael K. Jones was born and raised in Atlantic Canada. A former minister in the United Church of Canada he has ministered to a variety of congregations for over twenty years. Dead Reckoning is his second book. His previous release is Empty Houses: A Pastoral Response to Congregational Closure. When Mike is not writing he is enjoying walking and reading. He resides with his wife Trish in Calgary, Alberta.

Dead Reckoning is now available online through Amazon.ca.