SPOTLIGHT ON

Holt & Holt Funeral Home

Boerne, Texas 78006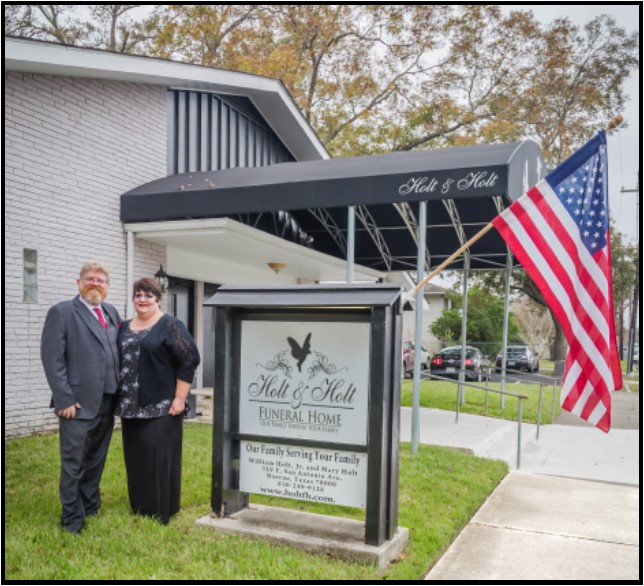 August 2018-The newly renamed Holt & Holt Funeral Home, formerly Vaughan's Funeral Home, was purchased by Mary and William Holt in 2017. Holt & Holt can be found at the same great location with new and improved facilities and owners that focus on unparalleled caring and compassionate customer service catering to families in the Boerne area. Holt & Holt is a husband and wife team, passionate about helping families achieve peace following the loss of a loved one. Their core values focus on maturity, compassion, dignity, respect and exemplary personalized service. The Holts' aim is to be of genuine and empathetic assistance to every bereaved family they help.
William Holt, the new Funeral Director, has finally found his true calling. His passion for customer service and his need to contribute to the community brought him to open Holt & Holt Funeral Home, along with his wife Mary and their son Jason. It is a real family affair offering compassion and caring to all the families seeking to lay their loved ones to rest. With the new and improved facilities and relationships, Mr. and Mrs. Holt felt a new name would reflect their vision and goals for this long-time Boerne business.
William started his funeral home management career in Yoakum and was managing five homes in that area before being transferred to manage funeral homes in the Taylor, Texas area. Finding that he preferred smaller funeral homes, he began working in Hamburg, Arkansas, and then moved to Nalley-Pickle & Welch Funeral Home in Midland, Texas, before taking over in Boerne and establishing Holt & Holt. Finding Boerne settled his restless heart; he found the right fit between his management skills, his commitment to excellent customer service and his compassion to help people with the loss of their loved ones.
Mary, the second part of the dynamic funeral home customer service duo, is the heart of Holt & Holt and a technical support expert. She will be utilizing her skills in computer programming, project management and accounting to make Holt & Holt a stable, organized family oriented funeral home. Mary was raised in Louisiana, but her Texas roots trace back to the 1840's when her mother's family emigrated from Germany to the Hill Country. Her forebears established themselves as store owners and land owners in the Hill Country and Gonzales county. As a child, she spent most summers in the Hill Country, and is glad to be back; it's one of her favorite places to be.
The combination of William's extensive management experience and Mary's technical expertise make them well-suited to running a funeral home and modernizing its operations. Applying their project management principles to every service, will allow for the newly improved Holt & Holt Funeral Home to focus their attentions on the families and their needs.
Holt & Holt Funeral Home is there when families need them the most. Their philosophy is: Our Family Serving Your Family.
Holt & Holt Funeral Home is located at 319 E. San Antonio Avenue, Boerne, Texas 78006.