Behind the Back Fence
By Lowell
At this moment it has been 94 days since we curtailed our funeral operations. Most marketing people still have us on their call or mail list. This week we received a beautifully printed trade publication from a major website provider. The editor pointed out that this issue was focusing on search engines and position ratings.

With my VA supplied Merlin LCM reader I am able to read much of the magazine content by scrolling the text and using various background and font colors. Graphics usually have to be viewed in full color to grasp the general outline while losing the ability to read white type over a colored background. Website pages are also impossible to read.

I would not expect designers to try to tailor their images for macular degeneration blind owners or managers. However considering the volume of pharmaceutical advertising about products to slow age-related macular degeneration, there must be a sizeable segment of the general population afflicted. I don't want to dampen the spirits of a talented graphic artist—but please try to get your message across to the broadest slice of consumers you can.

It is also irritating to me when these internet gurus fail to recognize that there are 10's of thousands of square miles of land and communities that have lousy internet service and refuse to put their own phone numbers or mailing addresses on their product.
---
Alice Adams, editor or the Texas Funeral Director has a neat story about "Marketplace Chaplains" in the current issue.
---
Last year I kept reading about "The Talk the Talk" program and the deck of cards to help stimulate the talk. Not being a card player (another story), I really could not visualize the usefulness of this product for it's intended use. Colleagues at a neighboring funeral home have loaned me their sample set to review.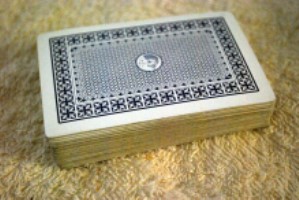 I'm still puzzled.

I suppose a talented preneed presenter might be able to stimulate classroom type discussion using the cards. But without symbols and numbers, I don't see much happening with the kids and grandkids around the holiday dining table.

"I'll raise your grandma's trip to Disney World with my Aunt Tillie's Thanksgiving turkey fire!"

It is probably a good thing I'm now a retired funeral director.

---
About the Author:
Lowell Pugh has had funeral director and embalmer licenses in Missouri and Texas. He is publisher of The Dead Beat which began in 1999. He can be contacted at The Dead Beat address and editor@thedead-beat.com